DFT Series
Select Product: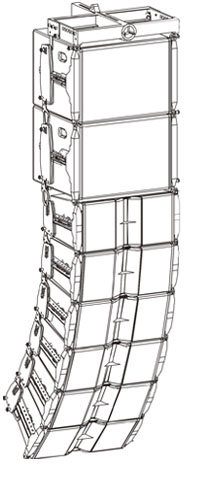 DFT-420 series is high performance, high power, high directivity, light weight, multi-purpose and very compact box design. 1x10 inch (64mm voice coil) high quality NdFeB bass, double 2 inch (44mm coil) compression drive module high tone and a passive frequency division network.
The new generation of DFT loudspeaker system represents more summary of more than 10 years, more functions of the next generation, more optimized sound design, proprietary all-aluminum high standard hoisting system and higher standard acoustic horn design and so on. Unlike the previous generation of loudspeaker systems, the DFT series combines the industry's leading acoustic design and structure with advanced technology sensors to achieve higher power, lighter weight and extremely accurate mode control. The next-generation DFT series offers 6 models, each with a unique design and delivers incredibly powerful, high peak power outputs with excellent power.
The special horn of the new generation DFT has the characteristic of abnormal smoothness and high reliability. As a careful research result of the RealSound anechoic chamber, the horn design shows constant directivity. In the operating frequency range, the beam width is consistent in both horizontal and vertical plane in strict frequency. Therefore, all frequencies except the specified beam attenuate uniformly, which minimizes the sidelobe effect, and the uniform predictable polarity reduces the guesses in the system design, and ensures that the counteracting interference of the array is kept to the minimum. Using manufacturer prefabricated program, built-in DSP through electronic frequency divider correction filter to achieve phase and frequency response, with driver protection settings, phase correction processing to ensure a flat acoustic amplitude and phase response, This results in excellent pulse response and accurate sound image.
All the low-frequency parts of the new generation DFT series are designed with high efficiency horn elements and optimum tuned arc horn ventilation design, as well as advanced standing-wave design and unwanted resonance. At the same time minimize weight and maintain maximum rigidity. The exhaust port is specially optimized to reduce the noise and compression. The result is an impressive low frequency expansion and output capacity, compared with other systems of this size, This reduces the need for individual bass speakers.
The new generation of innovative DFT technologies almost eliminate fragmentation distortion in audible ranges, resulting in a very smooth extended response without the harsh sense associated with traditional devices. The high frequency vertical mode has been mathematically optimized and can meet the requirements of ideal behavior in the array.
Same to all Real Sound speaker products, DFT-420 enclosure is constructed with the finest Baltic birch plywood and finished with a rugged exterior. Black epoxy mastic finish coating to withstand the most demanding conditions. The speaker grille is constructed of high grade 14 gauge perforated steel and finished with a commercial grade powder coat which is highly rusted & water-resistant.