Series Description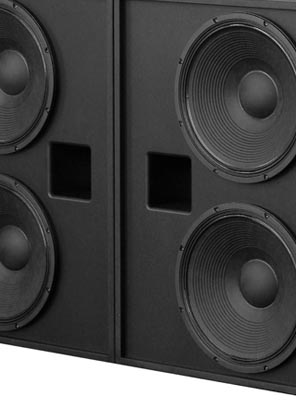 The cinema market is on the brink of a new era; the digitalisation of media has now also entered the cinema experience. The long-awaited Digital Cinema "non-compressed" audio standard brings new opportunities, but in order to meet the intentions of the standard, new thinking is required.

RealSound Audio's R&D has taken up the challenge implementing her know-how to design new cinema sound solutions from ground-up to enhance the Digital Cinema experience.

RealSound pro-ribbon transducer technology enables a non-compressed 1:1 reproduction of the movie soundtrack, from the most delicate vocals to even the largest explosions. The unusual high peak power handling cater for a 1:15 dynamic range.

But the evolutionary designs go beyond HiFi sound quality with digital dynamics; Amplifier/speaker synergy (enabling low-impedance speakers with effect of long speaker cables actively compensated), coverage control (less variation in front-to-rear SPL + wider stereo coverage), space economy (designs as slim as 7"/17cm!) and performance reliability (no blown-up speakers) are other important design parameters that are taken into account.
By implementing her recognized line-source technology into cinema sound system design (an industries' first), Alcons enhances the cinema experience even further. The acoustical coupling from this array technology reduces the typical SPL drop-off from front to rear (up to 12dB in medium-sized rooms) significantly; the resulting "proximity" effect dramatically enhances the cinema experience for the audience further away.

All these evolutionary designs make RealSound cinema systems "Digital Cinema ready"; Or in other words: "See more of the movie with an RealSound sound system!"