DFT Series
Select Product:
Series Description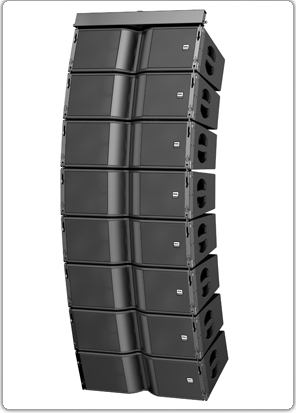 The DFT series is a high performance, high power, high directivity, light weight, multifunction and very compact body design, Real Sound is the latest innovation in the light of the line array technology. It incorporates an all new approach in modular high and mid frequency technology, providing excellent controlled directivity. The DFT eleven offers eight types of products, all of them can be freely combined.

DFT series enclosure not only provides flown ground-stacked placement but also has vertical and horizontal flying systems, which suit for any venues. Accurate rig system enables each box apt to be located and angle-adjusted and gets optimal smooth and uniform consistency of coverage.DFT series enclosures are equipped with integrated rigging including adjustable rear rigging for a variety of live sound applications. The rear rigging device allows the speaker array to be adjusted from 0° to 10° when the line array is flown or stacked. Ferrite magnet drive units are used as LF in DFT , in order to make it convenient to transport, handle and rig.
As with all Real Sound speaker products, DFT series is constructed with the finest Baltic birch plywood and finished with a rugged exterior black epoxy mastic finish to withstand the most demanding conditions. The speaker grille is constructed of high-grade 14 gauge perforated steel and finished with a commercial grade powder coat finish which is highly water-resistant.